More and more software is coming out with support for geotagged photos. Finally Adobe has caught on, and has released Lightroom 4, along with pretty decent geotagging features.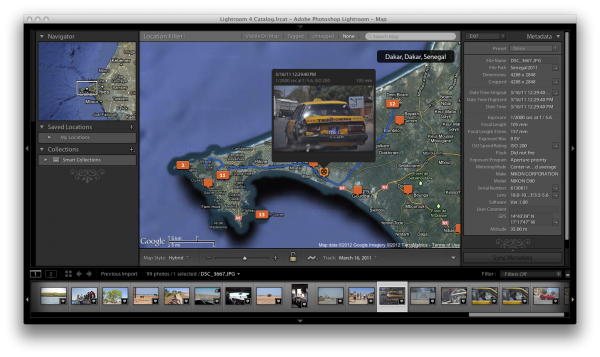 "Map" is now one of the main views available in Lightroom, in which you will see a big map, with markers in all the spots on the map in which you took photos. If you zoom out, markers too close together are merged. Instead of an empty marker representing a single photo, a number is displayed on that marker, indicating the number of photos taken in that area. You can also choose to load GPS tracklog files, and have Lightroom 4 display these on the map. These tracks can even be used to indirectly geotag photos that are not yet geotagged, by matching the timestamps.
Optionally, you can blend in extra panels. The left panel contains three subviews:
Navigator – a smaller overview map
Saved Locations – a set of manually saved spots/areas, defined by location and radius. For each Location you can set a privacy option, if you want location metadata to be deleted whenever you export photos from this area (your home, for example)
Collections – what would be called "Albums" in most other Photo Managment software – not geotagging specific.
The right panel is your usual Metadata panel, in which you can see EXIF, IPTC and other Metadata, including the EXIF Fields with the GPS coordinates, along with button that will center the map to those coordinates. You can even choose to only display Location Metadata.
Along the bottom you have your film-strip panel. The photos in here all have badges in the bottom right corner, indicating whether or not they are geotagged. if you click on one of the markers in the map view, all the photos in that location are centered and highlighted in the film-strip view, so you can quickly see which photos were taken there. Instead of clicking on a single marker in the map, you can also apply one of three Location filters (along the top of the map view):
Visible on Map – highlights all photos in the filmstrip which were taken in the currently visible area on the map.
Tagged – highlights all photos in the filmstrip that are geotagged, and dims the photos without geotag
Untagged – does exactly the opposite.
The latter is especially useful for finding the photos where your geotagging device missed a photo or two without you noticing, so that you can manually add its location – for example by synching Location metadata from another photo taken in the same spot, or using a tracklog that you might have additionally saved.
I have not taken the time to dive any deeper into Lightroom 4 (I use Apples Aperture – which has supported geotagging for quite a while longer), who knows what other gems I might have missed – so feel free to add your own finds in the comments!