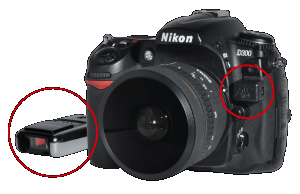 At PMA 2010 foolography presented its Unleashed Barcode Edition and won the DIMA 2010 Innovative Digital Product Award as well as the Pro Photographer Hot Pick and Retailer Hot Pick awards. The Unleashed Barcode Edition enables photographs to wirelessly connect a Barcodes scanner to the camera and save a numeric barcode directly to the EXIF data of your photos. This is a huge time-saver for volume photographers and is the most elegant solution out there, available for the entire current Nikon DSLR lineup! We finally started worldwide sales of the Unleashed Barcode Edition excluding USA and Canada (where we are still resolving a patent issue).
Find more info on the Unleashed Barcode Edition product page.
Purchase it directly in our Barcode Edition Shop.
You're very welcome to contact us with further questions.