It's almost Christmas and foolography will be giving gifts again, though this time we'll step up our game. For every Unleashed (D200+, D90 or Dx000) purchased through our online-shop in December 2011 and the first half of January 2012 we will give you:
One FREE GPS receiver by Visiontac!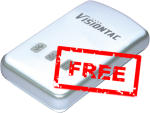 Alternatively, if you do not want the free Visiontac VGPS-500 (e.g. you prefer to buy one of our Holux receivers or already own a compatible GPS receiver), we will donate 20€ of your purchase to the charitable NEHEMIA Foundation in Albania.
Further information here.